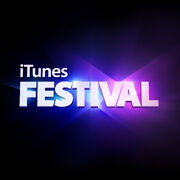 The iTunes Festival is a music concert series sponsored by Apple Inc. First held in 2007, tickets are given away for free to iTunes users and fans through localized prize draws. Performances are also streamed live for free and available to view afterwards for a limited time on iTunes and Apple TV.
In London, the iTunes Festival has become an annual, month-long music festival which takes place in September at The Roundhouse art centre in Camden Town.
2014
5 Seconds of Summer performed at the festival on September 4.[1]
Setlist
Videos
References
Ad blocker interference detected!
Wikia is a free-to-use site that makes money from advertising. We have a modified experience for viewers using ad blockers

Wikia is not accessible if you've made further modifications. Remove the custom ad blocker rule(s) and the page will load as expected.