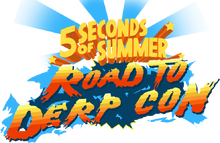 Road To Derp Con was released in October 2014, it's the band's second game, it promoted the 5SOS convention: Derp Con. More and more levels were released as time went on, in the end there were 10. In the game you fight ninjas and look at kangaroos whilst playing as one of the 5SOS superhero alter egos from Don't Stop (Cal-Pal, Dr. Fluke, Mike-Ro-Wave, and SmAsh).
Characters
Edit
Ad blocker interference detected!
Wikia is a free-to-use site that makes money from advertising. We have a modified experience for viewers using ad blockers

Wikia is not accessible if you've made further modifications. Remove the custom ad blocker rule(s) and the page will load as expected.